The story about how Mercuri International's founder Curt Abrahamsson built a world leading company within sales development.
"Curt Abrahamsson. Who is that? Never heard of him?" That was the ingress of an article written by journalist Karl-Erik Sveiby in the magazine Leadership in the spring of 1991. He continued: "Remember the name. He will in the future be ranked as one of Sweden's leading post-war entrepreneurs." It is now over twenty years since the article was written and Mercuri is still a world leader. Yet Curt Abrahamsson is as unknown.
Today the book about the man who founded Mercuri International, one of the foremost Swedish entrepreneurs within knowledge management, is released. During 40 years, Curt Abrahamsson built Mercuri International into a world leader within sales training and competence development. He was a strong leader who never told his co-workers what to do. Yet everyone knew what he expected.
This book is about his successful leadership and how he developed new sales models that many large international organizations still use in their sales process.
"The ideas of Curt Abrahamsson are still highly accurate, both for sales people and top management. Even politicians have a lot o learn.
Robert af Jochnick, Chairman of the Board at Oriflame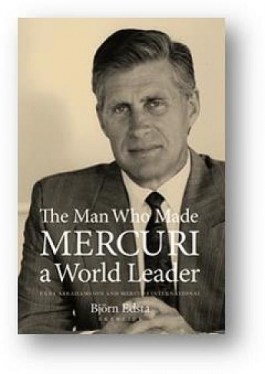 Press Contacts
Björn Edsta, author. Tel. +46 (0)708 87 77 44
Ola Strömberg, CEO Mercuri International ola.stromberg@mercuri.se Tel. +46 (0)8 705 29 29.
Bertil Ekerlid, publisher bertil.ekerlid@ekerlids.com Tel +46 (0)70 696 1057
If you want to by the book, click here.
About Mercuri
Mercuri International is the world's largest sales performance consultancy with business in more than 40 countries. We have more than 50 years' experience in helping companies implement strategies and achieve powerful sales results. www.mercuri.net.